Amsoil Motorcycle Products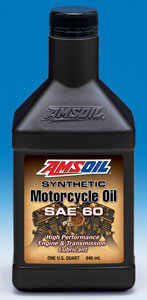 Ideal for Harleys and Older Bikes
Perfect for Combined Systems
Great for Wet Clutch and High RPMs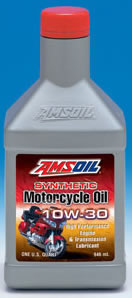 Excellent Friction Reduction Properties
Greatly Reduces Engine Heat
Perfect for Foreign and Domestic Models
Perfect for Harley V-Twin Engines
Excellent Multi Functional Oil
Wet Clutch Compatible
Amsoil Dealer
Many people often wonder how Amsoil is distributed and what are the various methods a customer can use to get the product. Unlike Mobil or other oil products you might be familiar with, Amsoil is generally not available at Wal Mart or other big box stores. Instead, Amsoil is sold exclusively through a nationwide network of independent dealers. Some dealers stock thousands of dollars worth of product at their homes, some have retail accounts with local stores and installers and others choose to sell Amsoil exclusively through the internet. Bottom line, with the right dealer you should be able to get whatever Amsoil products you need quickly and easily!
How Do I Buy Amsoil Online?
Buying Amsoil online is the best method for getting the products you need. Amsoil has a state of the art website that works on all mobile devices and regular desktops or laptops and it offers the most comprehensive selection of Amsoil products and the best opportunities to save money. The only way to purchase Amsoil products on the internet is through the official Amsoil corporate website. Any link offered on this site to purchase Amsoil will direct you to the official Amsoil corporate site. By purchasing Amsoil online you have the option of saving money in one of two ways:
Free Shipping On Orders Over $100:
That's right, if you place an order of $100 or more at www.amsoil.com you don't have to pay shipping charges! For orders under $100 there is a simple flat rate shipping charge of $8.50
Become a Preferred Customer and Buy at Wholesale Cost:
For the low price of $20.00 per year (or $10.00 for a six month trial) you can purchase Amsoil products at dealer/wholesale cost. Click here for more information.
Buying Amsoil Directly from a Dealers Stock
In some cases you might be able to buy Amsoil directly from a local dealer in your area. In fact, I encourage anyone who is local to Southeastern Wisconsin to call me to see if I might have the product you need in stock. If not, then we will simply order you the product and it can be shipped right to your door. Keep in mind that ordering Amsoil online is the best way to get the products you need. I have customers all over the United States and this is how most of them prefer to order, I keep a limited amount of stock on hand because custom ordering has been so effective for my clients.
Buying Amsoil From a Local Retailer
Depending on how aggressive your local dealers have been in getting Amsoil on the shelves of retail stores, you might be able to find product at automotive parts stores in you area. While Amsoil does not allow its product to be sold at large "big box" style retailers, it certainly can be found at many smaller parts stores across the country such as NAPA, Advance Auto Parts or even Feet Farm stores. The products these retailers have will vary, and usually they only carry very common products. Your best bet of course is still just to call your local dealer like me, or to purchase the product online at Amsoil's web store.