Amsoil Marine Products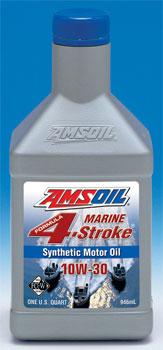 Amsoil Formula 4 Stroke 10W-30
Designed specifically for marine engines
Addresses the challenges of moisture
Greatly reduces smoking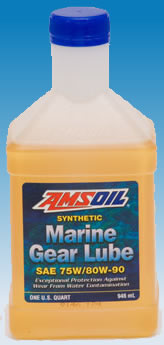 Amsoil Synthetic Marine Gear Lube
Protects against shock loading and cavitatio
Amazing resistance to moisture intrusion
Fresh and salt water compatible

Excellent for trailer wheel bearings
Resists the elements
Excellent in high and low temperatures
Amsoil Marine Products
Amsoil offers a complete product line custom tailored for the marine enthusiast. Boats and personal watercraft have completely different needs for both lubrication and maintenance. Amsoil has specifically designed and formulated a complete line of lubricants and support products that will greatly improve the performance of your watercraft and extend the life of their engines.
Amsoil Two Stroke Marine Lubricant Recommendations
Amsoil Four Stroke Marine Lubricant Recommendations
Amsoil Marine Gear Lube and Grease Recommendations

Amsoil offers a wide variety of excellent lubricants for two cycle marine applications. Click on the application chart thumbnail to get a better idea of what product might best fit your needs or read the individual product descriptions below.
Amsoil HP Injector is ideal for marine engines with fuel injection systems. This specially formulated lubricant is designed specifically to meet the needs of fuel injected systems and resists gumming and helps keep deposits to a minimum during long seasonal shut downs. Recommended for in boards, outboards and personal watercraft that use fuel injection systems but also makes an excellent all around two stroke lubricant in non fuel injected systems.
Amsoil Interceptor is the ideal lubricant for personal watercraft utilizing exhaust valves or other marine applications where maximum protection and lubricity is required. This high detergent formula provides maximum engine protection and greatly reduces engine wear and breakdown compared to conventional oils.
Amsoil Dominator is the perfect oil for engines put under high stress through racing or other high performance applications. Dominator features an advanced additive package that greatly reduces sticking, piston ring damage and other problems associated with the high heat of running fast. Dominator is also a very viscous oil to provide maximum protection in extreme situations.
This oil was designed specifically for the needs of Outboard motors in premix situations. Saber can be mixed as lean as 100:1 and mix ratios can be customized to the needs of the situation. Saber premix reduces smoking, prevents plug fouling and oil loading which ultimately leads to excellent throttle response.
Amsoil has developed and maintained an excellent line of lubrication products for today's four stroke inboard and outboard motors. The oils listed below have all been specifically designed to meet the unique requirements of four stroke marine engines and the conditions they face.
Amsoil Formula Four Stroke 10W-30 and 10W-40 Marine Oil
Formula Four Stroke lubricants are designed specifically for the harsh marine environments that the boating enthusiast meets. These oils are fortified with rust inhibiting additives and provide superior wear protection in situations of high load. Both of these oils offer excellent viscosity across a wide range of temperatures, making them ideal for multi season use.
Engine oil is just one piece of the puzzle for your boat, Amsoil offers a complete line of gear lubricants and grease that will help keep your boat and trailer in excellent running condition.
Amsoil Marine Gear Lube is designed specifically for the challenging demands of marine lower units. The lower unit of your boat is exposed to many high stress situations, not to mention the potential for water contamination. Amsoils proprietary formulation provides the excellent wear and stress protection your gears need from high impact situations like cavitation and accidental hits. Additionally, Amsoil marine gear lube has been tested to maintain lubricity and protection even when contaminated with up to 10% water.
Water contamination is a fact of life when dealing with boats and the trailers that pull them. Not only is Amsoil Water Resistant Grease excellent for many moving parts in your boat, it provides superior protection for trailer bearings. This grease is ideal for the seasonal punishments boats and their supporting equipment take.