Amsoil Snowmobile Products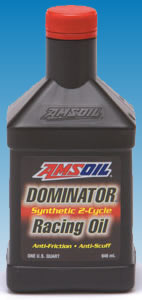 For High Performance Applications
High Thickness and Viscosity
Ultimate Protection for Modified Engines
Desinged For Exhaust Valves
Superior Wear Reduction
High Detergent Formula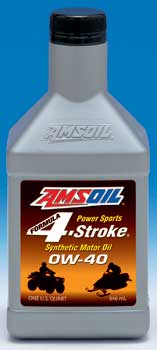 Ideal for Snowmobiles and ATVs
Wet Clutch Compatible
Formulated for a Wide Temperature Range
Amsoil for Snowmobiles
Snowmobile and power sports enthusiasts demand high performance from their snowmobiles and ATV's and because of this, they depend on top notch lubricants and support products. Amsoil has a complete line up of products that will not only provide the best protection for your engine, but will increase performance and engine response as well as reduce maintenance costs.
Amsoil Snowmobile Lubricant Recommendations
Amsoil Snowmobile Filtration Recommendations



Amsoil produces a lubricant for every major type of snowmobile available today. Whether you are riding a high performance racing two stroke or a low emission cruiser with a high tech four stroke, Amsoil has an engine oil for your application
Read the individual product descriptions or click on the thumbnail below to view a two stroke application chart.
Amsoil Interceptor Two Stroke Oil
Amsoil Interceptor is a premium lubricant for two cycle engines and it is specifically formulated to meet the demands of high performance exhaust valves. This low stick formula provides the necessary lubricity for exhaust valves while including an excellent additive package that reduces sticking and slow valves. This same additive package also nearly eliminates piston ring sticking and other severe engine wear. Extreme testing of Amsoil Interceptor in the Rocky Mountains for a full season showed significantly lower engine wear than competing oils.
Amsoil Dominator Two Stroke Oil
Amsoil Dominator is the absolute best lubricant you can buy for your high performance and or racing snowmobile. Dominator is made with an extremely potent additive package and is made with a very high viscosity formulation to provide serious protection for engines under the highest stress. This oil is designed specifically for the needs of the high performance snowmobile enthusiast. Whether you are a racer or just push your snowmobile to the limits, Amsoil Dominator will provide the best protection to keep your modified or high horsepower engine running for a long time.
Amsoil Formula Four Stroke
Amsoil Formula Four Stroke is an ideal lubricant for today's four stroke snowmobiles. This oil offers protection and performance for extreme temperature ranges and with a pour point of minus sixty degrees, you know you'll get dependable cranking power in the toughest winter conditions. Additionally, Formula four stroke has advanced anti foaming agents that reduce or eliminate oil foaming which can cause damaging high heat. Lastly, Formula four stroke utilizes an additive package that contains rust inhibitors which help protect your engine during long seasonal shutdowns.
Amsoil EA Snowmobile Oil Filters
Amsoil EA snowmobile oil filters are made of advanced nano fiber technology and offer far superior filtration when compared to conventional filters. Amsoil EA filters are the absolute highest efficiency filter available for your snowmobile. Not only will they greatly extend the life of your oil, they will reduce maintenance costs and prolong the life of your engine as well.